Archive: March, 2012
An interesting article on the future of tablets in the enterprise.
Here is an update a week later. We have decided to break down the stats into 2 set of stats: newly polled users (polled since the last results) and total (including the previous figures). Ideally looking at just the newly polled users would give you the right results but since our pool is small, we figured providing both would make sense.
Here they are
As you can see, 5.1 is increasing. Note we had a bit of a spike with 4.3 users but likely due to our small sample pool.
UPDATE: You can view the latest stats here
We have started to conduct surveys to see the deployment of iOS 5.1 amongst our users. In one short week, iOS 5.1 has already reached a staggering 22.8%. Now our sample pool is fairly small; however, it is nicely distributed by country and iPhone vs iPad so it should be pretty close to the masses.
We will try to update those statistics every week for the next little bit so come back and check.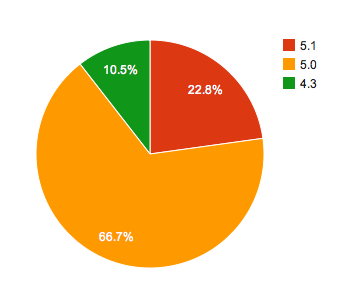 UPDATE: You can view the latest stats here