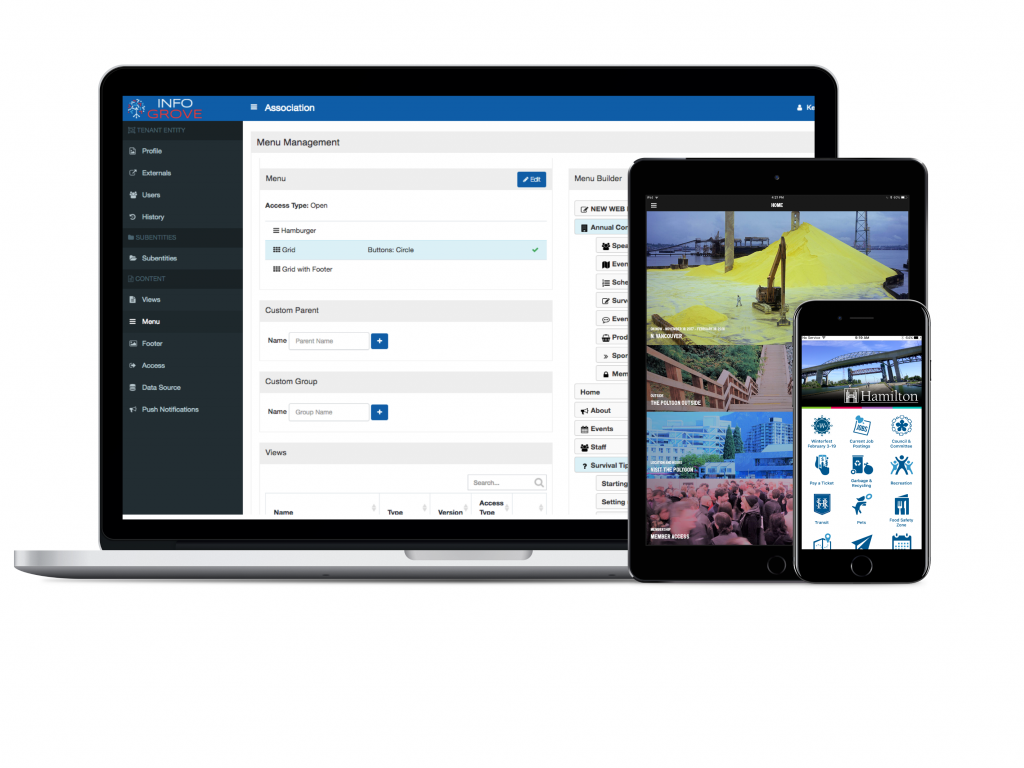 Info Grove makes managing your own mobile app easy. You choose from a few themes (or get custom, if you'd like), add your logos and graphics, and create your own content. Don't worry, we take care of the technical stuff. You are able to update content in real-time and send push notifications without any technical background.
Are Info Grove apps built with native technology?
Yes, we build every app leveraging native technology for iPhone and Android
---
Are Info Grove apps available on the App Store and Google Play Store?
Yes, all apps are published in both stores. Or, just one if you prefer.
---
What can I expect from the developing process? How are Info Grove apps built?
Stage 1: We work together to determine an MVP (minimum viable product) for getting you launched on the app stores. You choose what features to include (based on our pricing guide) and we build the app on your behalf.
Stage 2: We provide demo builds to let you test the progress as we develop. We gather feedback and continue on the final build.
Stage 3: You are trained on the backend CMS. After the training you'll be able to add new content, edit, and manage the app by yourself.
---
What happens when the new update comes out from Apple and Google? Does my app still work?
Yes! As part of the annual maintenance fee, we take care of updating the app to meet the latest operating system.
---
Once the app is launched in the app store, what happens next?
We will work with you to build the initial release of the app. Once the app is live, you have all the control on adding new content, sending push notifications, collecting data, etc.
---
What if I want to add a feature that is not currently offered by Info Grove?
14 Oranges began in 2009 as a custom mobile app development team, we would be happy to take on new custom integrations.
---
What if I only want a few features?
Info Grove is designed as a "pick and choose" service. You choose what features you want in your app. Contact our sales team to receive a pricing guide.
---
We are a member based organization, can we make certain parts of the app private?
Yes, we offer password protected logins for member based organizations.
---
Do we have control of the design process?
Yes, Info Grove is equipped with 3 basic menu options: Icon grid, hamburger menu, and dashboard menu. You choose the graphics, colours, and fonts and we make it happen.
---
Can we start small and build as we go?
Yes, Info Grove has a Bronze, Silver, and Gold package for pricing. Contact our sales team today to learn more.
---
Can we sell products on Info Grove apps?
Yes, Info Grove has a module that launches your existing web store and allows users to complete transactions without leaving the app.
---
Ready to Learn More?
Contact our sales team today!