Name:  Integra Adhesives
Version: 1.1.1
Developer: 14 Oranges
Platform: iOS and Android
Price:  Free
Available at the App store and Google Play
Why Integra Adhesives Chose 14 Oranges
14 Oranges was approached by Integra Adhesives to create an application to enable their customers to best match the colour of a countertop with the adhesives sold by Integra. Integra Adhesives has an extensive selection of colours with over 300 colour options matching over 6000 countertop sheets from more than 300 manufacturers, and they were looking to create an app to help simplify the colour match process.  When 14 Oranges was approached by Integra Adhesives, they had an existing website with similar functionality, back end systems, and databases but were looking to produce an app with as far a reach as possible, but were limited by budget constraints.  Additionally, Integra's lone technical staff member did not have time or the precise expertise to begin the process of creating an app.  This situation is a common stumbling block for many organizations with small IT departments and firms looking to cut costs, so they look to start outsourcing specialized technological work.
The 14 Oranges Process
The 14 Oranges work process for Integra Adhesives started with an onsite kick-off meeting involving the 14 Oranges project manager and technical lead as well as key stakeholders from Integra Adhesives  in order to establish an internal review of requirements and scope. Once the review was completed, there was an initial ramp up phase and creation of sprints and milestones followed by multiple implementation and quality assurance cycles.  When the first deliverable was ready, it was reviewed by Integra Adhesives and adjustments were made based on their feedback.  The last step involved was device specific quality assurance and once that was successful, 14 Oranges submitted the final release to the respective App stores.  As with all our clients, 14 Oranges performed a final follow up to ensure that all loose ends were tied up and completed.
Functionality
The Integra Adhesives app takes the guesswork out adhesive colours for an installer.  The app features colour matching, products, fabricator tools and contact information to make life easier for installers.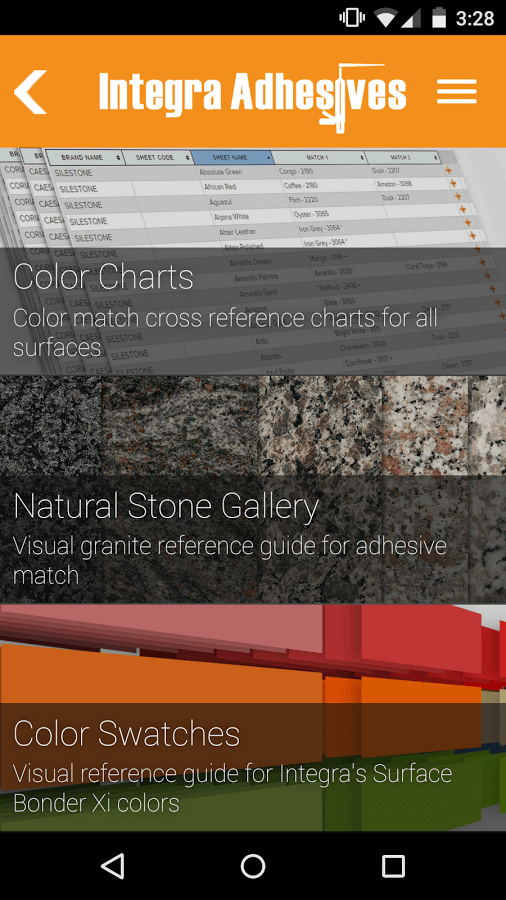 Colour Matching
The colour matching section of the app includes colour charts, a natural stone gallery and colour swatches.  These sections allow installers to access all the surface brands so you can match your adhesive to the product line.  No more guess and check then going back to the store to return the item that didn't work.  The natural stone gallery is really interesting because you can compare the photos of your stone with the options on the app so you can get an idea of how a seam would look together.  The colour swatches are probably my favorite part of the app because the variety of colours is fantastic and fun.  With the Integra colour palette at your fingertips you can mix and match until you see a colour combination that is right.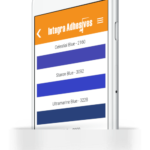 Products
The product section of the Integra app includes adhesives, caulk, dispensers and accessories information.  The overview and spec information included in the app is so detailed that it makes it simple to understand.  There are instruction manuals for the adhesives and accessories so the app is also a teaching tool that provides instruction and knowledge.
Tools
There is an adhesive calculator in the tool section of the app that is very easy to use because it is clear and includes imperial and metric systems.  There is also a library of YouTube videos on the app so installers can get a better understanding of the adhesive selections that are offered by Integra.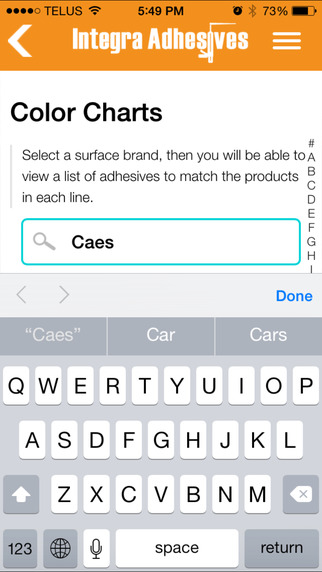 Audience
The best part of the Integra Adhesives app is how clear and easy the information is to understand for any installer.  They can mix and match colours to see which combination they like, they can watch videos to learn about which adhesives are right for their job and see a whole array of products that will make their clients' homes functional and beautiful.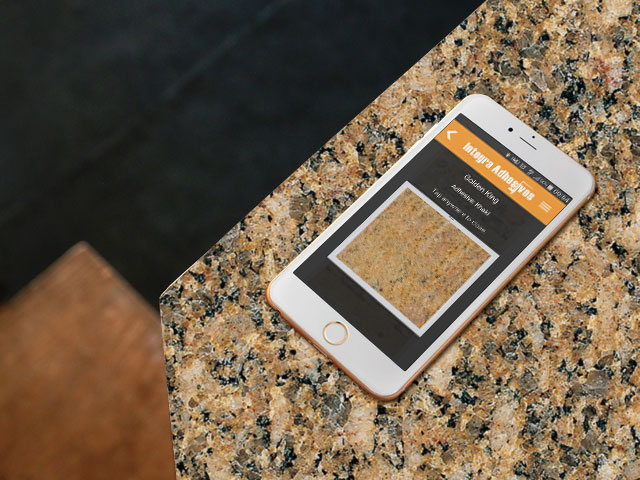 Ease of Use
The Integra Adhesive app is incredibly straightforward to use and functional.  It was fun to navigate and play around with different colour combinations and stone options.  The product information is simple to understand and is arranged in a logical order.  The videos are a useful tool for pulling the instruction manuals together and getting a visual understanding.
Design
App design can be challenging for a manufacturing or industrial field since it's not conventionally fun or engaging for consumers.  This app is designed well and has a lot of valuable information for someone in the home renovation field.
14 Oranges built the Integra Adhesives app with Adobe PhoneGap, a multi-platform framework, allowing deployment on a limited budget and meeting a tight timeline.
Round Up
The Integra Adhesive app is a valuable tool for installers but it also sets the benchmark for manufacturing and industrial firms.
Review: Integra Adhesives App Takes the Guesswork Out of Colour Matching