Hedge Connection, the patented marketing platform for hedge funds, has announced the release of their audience voting mobile app for their annual Deal Ring event, which was most recently held on March 16, 2016 in Chicago. The apps and event website were developed by 14 Oranges for Hedge Connection, and allowed the audience to vote in real-time on fund manager pitch sessions during the event.
CHICAGO, IL (PRWEB) APRIL 20, 2016
Today, Hedge Connection is announcing the release of their Deal Ring event app for iOS and Android. Deal Ring is a Shark Tank style event where fund managers pitch to a panel of hedge fund investors, called Ringmasters, before a live audience. The app allows the audience, also made up of investment professionals, to participate in judging the fund manager pitches.
The website and audience voting apps feature an easy to navigate design that worked in real-time to provide both a voting interface and a voting results display for all the attendees at the event. Based on the audience and Ringmaster feedback, the managers would land a meeting with a Ringmaster to discuss a potential allocation in their fund.
The mobile apps and website were developed by 14 Oranges, one of the leading custom web and mobile application development firms in the the Pacific Northwest. Based in Vancouver, BC, 14 Oranges is known for its custom app development work across a broad spectrum of event, retail, government and telecom customers, including the Blo Dry Bar, the Jim Pattison Broadcast Group and the BC Safety Authority.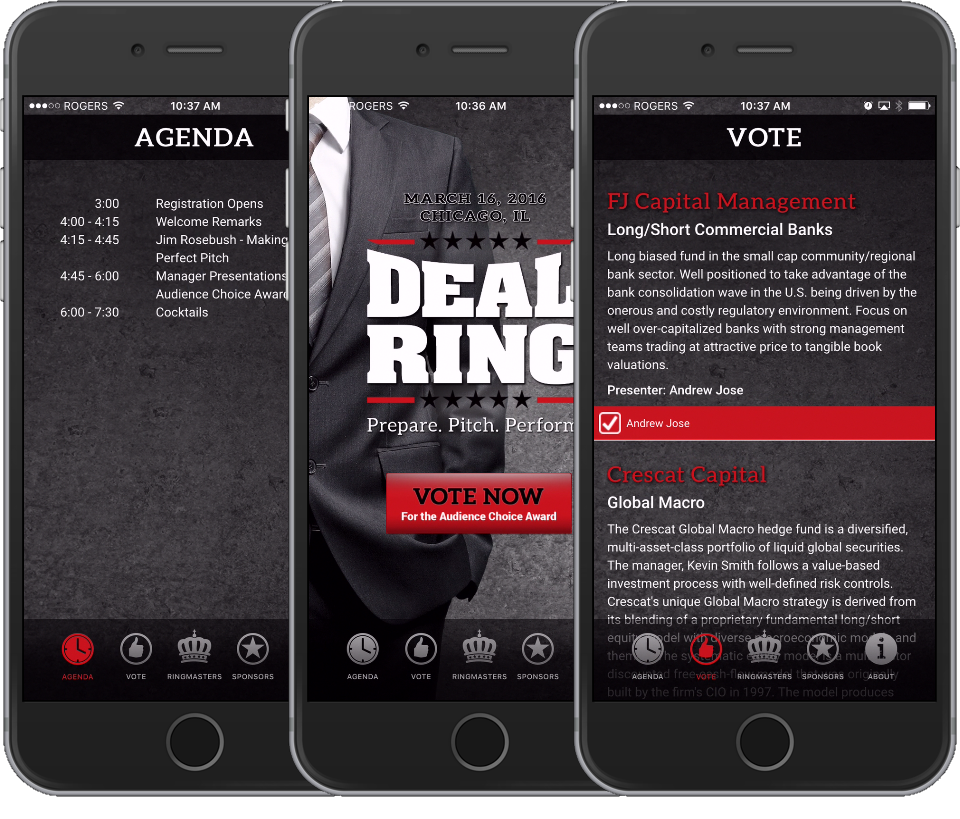 "We were looking for a mobile app solution that we could tie into this unique event format," said Rob Arthurs, Co-Founder at Hedge Connection. "14 Oranges was able to provide their audience voting app in a timely fashion, and it helped to make our event very engaging for our attendees."
"Our experience in developing data-capture and reporting solutions for our customers allowed us to roll out the required solution quickly and efficiently," explained Shane Todhunter, Vice President of Business Development with 14 Oranges. "We applaud Hedge Connection's vision to engage their event audience through their mobile app."
Hedge Connection Launches Audience Voting Mobile App for Fund Manager Pitch Event