Before I head out to the MISA Ontario Conference, the annual gathering of the technology managers inside Canada's municipal governments, I wanted to pause and outline the question I'm going to be asking the attendees I meet this weekend:
How are you managing your various mobile workers in each of your departments?
I'm expecting a wide variety of answers, including:
• GPS tracking solutions for snowplow fleet managers
• Whiteboards or paper schedules for lifeguards
• Tough-books for fire/police forces
• Push-to-talk phones for security staff
• iPads for my site managers
In other words, I'm expecting each department to have their own way of communicating with and organizing their mobile workforce. And I expect each of these workers will be managed by a different back-end system, with a few of them working with more than one back-end system, including:
• Licensing and permitting systems
• Route management systems
• Bylaws and ticketing systems
• Geo-spatial databases
• Customer relationship management (CRM) systems
• Asset management databases
• Billing and point of sale systems
• Time sheets and scheduling systems
Multiple interfaces, multiple workflows, multiple back-ends hosted inside the municipality and some in the cloud. It's confusing, hard to report holistically on and ultimately inefficient and costly to government.
This is why we are introducing our mobile workforce management solution.
The concept is to make the mobile worker's job simple, by providing them with one mobile application interface that shows them all the information they need, and all the information they need to collect. They see their next job, and where exactly to go on the map to do it.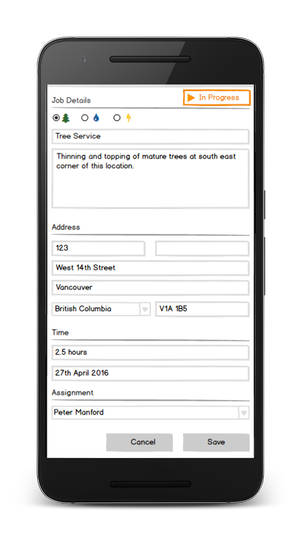 The mobile worker's manager/dispatcher can see their workers on the map too, ensuring their safety and the tracing necessary to ensure that service is being provided to every taxpayer. The manager/dispatcher can drag and drop jobs into or out their mobile workers' work queue for that day, allowing them to re-prioritize assignments on-the-fly to deal with priority needs.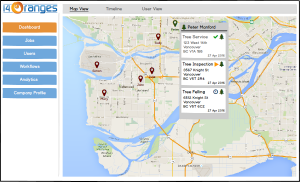 The system's flexibility is in it's ability to define customized workflows for every job that is needed to be done in the city, along with the built-in scheduling capability to assign the job to the right full-time or part-time worker with the right skill set to go the site and get the job done the first time, preventing costly revisits.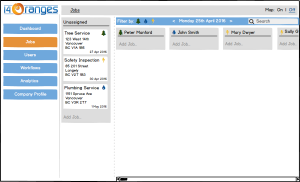 Data is collected in the field and it flows back to the service and distributed to whatever back-end system needs it through their well defined service interfaces and APIs.
Reports will be able to provide insights to managers/dispatchers on improving the processes, and help to identify ways of maximizing employee on-site time vs. off-duty tasks.
Custom workflow, custom forms. Custom reporting.
14 Oranges will give you the actionable insights you need to make your workforce more efficient. We are looking forward to these conversations at MISA this upcoming week.
Towards a More Efficient Mobile Government Workforce