Smarter Health, Inc., today announced the availability of its Premature Ejaculation App (Pea) for iPhone. The app was developed to educate men in the use of the stop/start method, Kegel exercises, and various other techniques that teach men how to last longer in bed.
VANCOUVER, B.C. (PRWEB) SEPTEMBER 22, 2016
Smarter Health, Inc., a Vancouver, B.C. based health training firm today announced the availability of their Premature Ejaculation App (Pea) for iPhone. The app acts as a coaching tool to train men in the use of exercises to strengthen their pelvic muscles and allow them to establish physical and mental control over the timing of their ejaculation.
The unique aspect of this application is that it provides animated medical content to help explain the stop-start and Kegel training exercises in more detail, it then walks the user through the exercises using a timer and session tracking. This training system leads to much quicker results than traditional solutions.
"I overcame premature ejaculation by using the method we teach in this app, the difference is I struggled for years and spent hundreds of dollars on books and potions before finally figuring out how simple the fix is with the right training technique" said Brennen Belich, founder of Smarter Health Inc., "We needed help delivering the content and tools on the technology side and 14 Oranges was able to organize our video content and medical text in a manner that best supported this goal of the application."
14 Oranges is a Canadian custom application development firm, with offices in Richmond, Ottawa and Halifax, and have developed mobile apps for government health networks, safety authorities, and insurance companies.
"The Pea app represents the next generation of health tools being offered to the public today. Not only is it informational, but it contains the content and exercises to help transform the lives of individuals who use the app daily," said Sylvain Marcotte, CEO of 14 Oranges.
The app is available for download through the iTunes app store.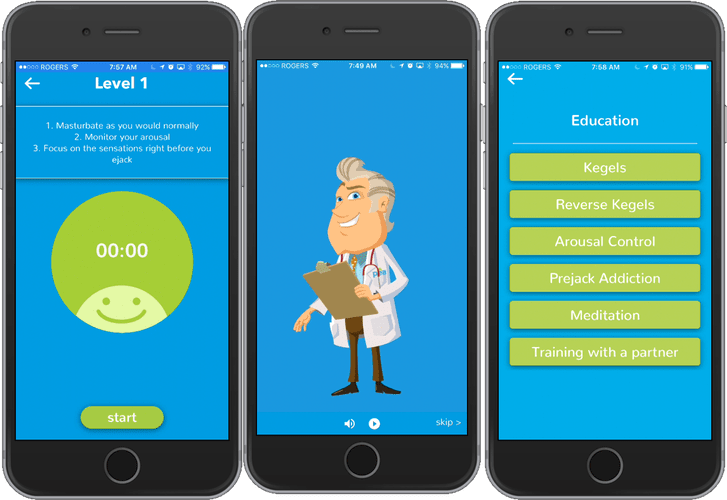 New Mobile App Tackles The Taboo Subject Of Premature Ejaculation With Proven Techniques and a Sense of Humour