Cabo Transfers today announced the release of its revised website to simplify booking and paying for private and group transfers from the San Jose de Cabo (SJD) airport to any of the resorts in the surrounding area. The new website, developed by 14 Oranges, allows customers and partners to book their premium services from a website or smartphone on the go.
PRWeb: Feb 28, 2017, Cabo San Lucas, Mexico
Cabo Transfers, the premiere, private, full concierge transfer and excursion service for visitors to Cabo San Lucas and the surrounding area, today announced the launch of their new website supporting both standard web and mobile browsers. The website allows visitors and partners to easily book and pay for a comfortable and luxurious transfer from the airport to their preferred Cabo San Lucas vacation destination.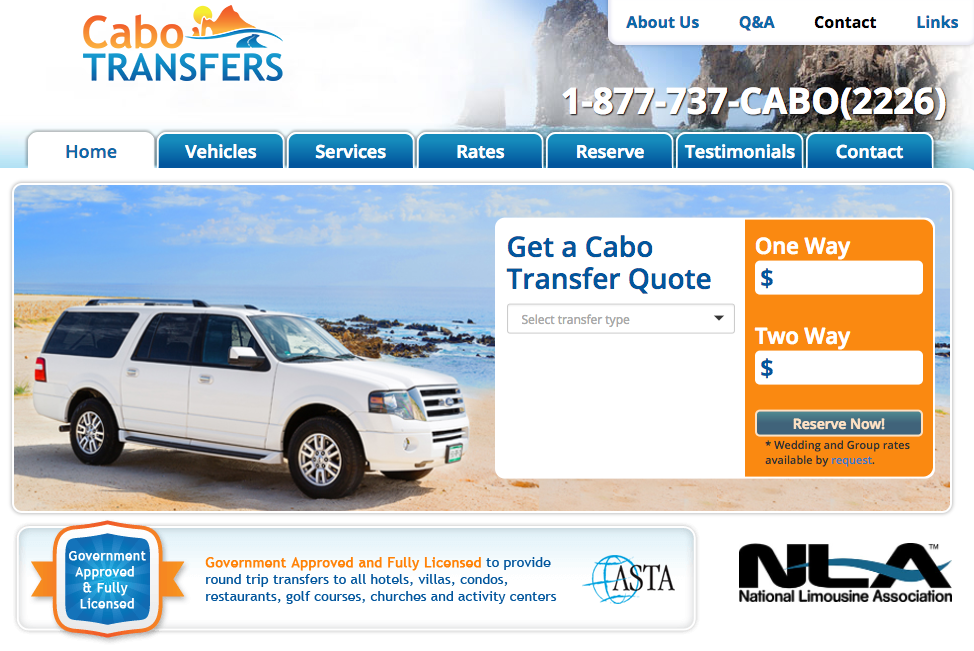 In addition to airport transfer services, Cabo Transfers also offers roundtrip private driver services for dinners, trips to the grocery store and excursions to noted local attractions such as Hotel California, the Palmilla Golf Club or Cabo Dolphin Encounters. With more travellers booking their accommodations through services such as Airbnb and VRBO, grocery store trips have become increasingly popular.
The website is designed to simplify quoting, booking and confirmation and provides an integrated payment system for their fleet of vehicles ranging from a Ford Expedition up to a full-sized motor coaches to accommodate any sized group.
One of the more innovative services supported by the website is Cabo Transfers' new partner booking portal, allowing travel agents, wedding planners and hotel partners to easily book transfer services on behalf of their clients. As a member of the American Society of Travel Agents (ASTA) this service fits tightly into the mission of shared knowledge and access to services between member organizations. The portal will be launched in the 2nd quarter of 2017.
"Our new website shows our commitment to our customers and partners as the safest and most trusted private hired car service serving Cabo San Lucas," said Mark Diesvelt, the Online Systems Manager at Cabo Transfers, "14 Oranges has delivered an exceptional user website experience in line with this goal, helping us to service our stakeholders on the web or on the smartphone platform of their choice."
14 Oranges is a leading provider of web and mobile services supporting on-demand services and the uberfication of everything. Supporting web and mobile solutions for the tourism, government and enterprise markets, our customers trust us with their most critical revenue generating and operations management systems.
About Cabo Transfers
At Cabo Transfers, we strive to provide the most elite transportation service in the Los Cabos area. It starts with our luxurious and comfortable vehicles. It continues with our high level of transportation service with our staff. Finally, our competitive rates will showcase why we are able to exceed our guest's expectations. Cabo Transfers will keep you from worrying about your transportation needs any time you travel to beautiful, sunny Los Cabos. Cabo Transfers is a long standing member of ASTA (American Society of Travel Agents) and the only transportation company in Los Cabos with NLA (National Limousine Association) accreditation.
Contact: Mark Diesvelt, mark(AT)cabotransfers.com
About 14 Oranges
14 Oranges, is a leading provider of turnkey web and mobile application services to support our customer's key requirement for simple end user engagement and efficient operational management. Headquartered in Richmond, BC with offices in Ottawa and Halifax, 14 Oranges sells its services to governments, retail organizations and enterprises. 14 Oranges' web and mobile application services brings a mobile-first design approach, enabling our customers' end users to connect with their organization on-the-go, while they in turn manage their organization from their smartphone. Managers realize an immediate return on investment (ROI) from increased end user engagement and an increase in their organization's productivity.
Cabo Transfers Deploys New Mobile-First Website In Its Unending Commitment to Serving Its Customers and Travel Partners