The City of Richmond, British Columbia, launches Metro Grove, 14 Oranges' mobile-first app service for managing field workers. Part of Richmond's innovative Digital Strategy, the app will drive increased inspection efficiency making for a more business friendly and smarter city.
PRWeb: Richmond, B.C., March 9, 2017
The City of Richmond has launched a new mobile app to increase the efficiency of its building inspectors. The mobile application, based on the Metro Grove Mobile Workforce Management Service provided by Richmond-based 14 Oranges, allows inspectors to perform and file an inspection from their smartphone instead of the current mixture of paper and interactive voice response (IVR) based systems.
The new app is part of a broad initiative rooted in Richmond's innovative Digital Strategy, which was approved by City Council in 2015. The goal of the strategy is to integrate the Cities' systems using a middleware approach, dubbed the Digital Nervous Ecosystem and enhance customer service and improve efficiency through the use of new digital technology. This application is one of a part of a series of initiatives that will help improve the way the City of Richmond meets the needs of the public and businesses operating in the City.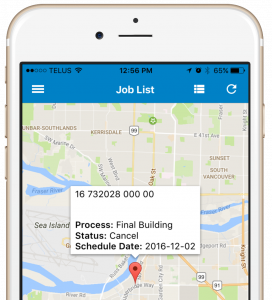 The app provides a simple, straightforward way for Richmond's building inspectors to view their respective inspection task list for the day on their smartphone of choice and input, post, and synchronize their results and comments to the existing inspection management system. This app simplifies the current approach of handwriting inspection results in the field that in-office clerks input later or navigating IVR trees to feed the information back into the City.
"Contractors and trades will be able to get almost instantaneous feedback of the inspection results and remediate any reported deficiencies sooner," said Malcolm Brodie, the Mayor of the City of Richmond, "Overall, this enhances the customer experience and satisfaction, demonstrating that Richmond is a business-friendly city."
The smartphone technology, developed against the 14 Oranges (https://www.14oranges.com) Metro Grove Mobile Workforce Management Service, delivers a persistent and stable connection to the legacy backend systems for data retrieval and updates enabled by Richmond's Information Technology Department. As well, the mobile platform provides easy and uncluttered navigation between screens. This enables the inspectors to complete their assignments quickly and efficiently.
About the City of Richmond
The City of Richmond is BC's fourth largest municipality with a vision "to be the most appealing, livable and well-managed community in Canada." An Official Venue City of the 2010 Olympic Winter Games, Richmond is internationally acclaimed for its cultural diversity, healthy lifestyles, and natural environment. Home for Vancouver International Airport, deep sea port facilities, and the Canada Line, Richmond is a global centre for transportation, trade and distribution. The City of Richmond has received numerous provincial, national and international accolades for innovation and excellence in service delivery and local government administration.
Media Contact: Ted Townsend
Director, Corporate Communications and Marketing, City of Richmond
Tel: 604-276-4399, Cell: 604-516-9585
Email: TTownsend(at)richmond(dot)ca
About 14 Oranges
14 Oranges is a leading provider of turnkey mobile application services to support the efficient management of mobile workforces. Headquartered in Richmond, BC with offices in Ottawa and Halifax, 14 Oranges sells its services to government agencies and medium to large enterprises who are dependent on mobile workforces. 14 Oranges' mobile application services brings a mobile-first design approach, allowing mobile workers to use their own smartphones to stay on-task, minimize drive time and increase valid data capture. Managers realize an immediate ROI both in terms of worker efficiency and the ability to manage more workers from a single interface.
New City of Richmond Mobile App Will Enhance Building Inspection Efficiency