It was 5 years ago when I was first introduced to car sharing. I did not understand it nor buy into it. The entire concept of sharing vehicles with other people confused me. However, it did not take long for me to abandon this mindset when Car2go had an info booth on my university campus. Next thing I knew they offered me 30 free minutes of driving and I signed on the dotted line. Today, I use both the Evo and Car2Go mobile apps and in doing so, I always have a set of vehicle keys in my pocket.
How does it work? Car2Go & Evo. 
First, you have to register for a car sharing provider (they all have sign up fees but often offer promos) and download their mobile app. You'll need a valid driver's license and a clean driving record. When you have been approved, all you have to do is open the app, find the closest car to you and press "reserve/book this car." Car2Go and Evo will hold your reservation for 30 minutes. Once you make it to your chosen vehicle, open the app again and press "start rental." From here on you're being charged per minute. When you've reached your destination, park the car in a designated spot, open the app and end your trip. However, car sharing operates with a "home zone" attached. Meaning as long as you leave the vehicle within that zone, your parking is free. These home zones cover the geographic boundaries of an associated city, so in most cases, this is not an issue.
Pricing.
For just 32-41 cents a minute, Car2go and Evo car sharing apps adapt to your life. Whether you're doing a quick shopping trip or driving home from work, car sharing helps you get around a busy city. Evo and Car2go also offer pricing for longer trips. With Car2Go, you can take a smart car for 24 hours for just $65, and Evo charges $89 for the same period. A great part of Evo and Car2Go is that they only charge $2/year to keep your membership, meaning if you don't drive you don't pay!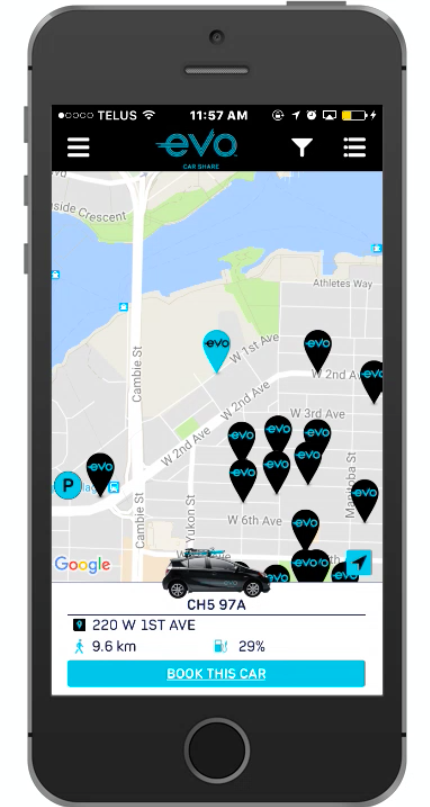 Why own a car?
In a busy city like Vancouver, owning your own vehicle may not make the most sense. With public transit, bike lanes, and densely populated areas, a car may not be right for you. By using these services you have all of the benefits of owning a car without having to deal with all of the hassles. No oil changes, no insurance, no inflating tires, no maintenance, and no problems. You do not have to pay for gas or for parking (unless it is a metered spot). Car sharing is best for people who don't need a vehicle everyday. With the costs associated with owning a car (insurance, gas, maintenance, and etc.), carsharing in an urban city is a perfect solution. Pay for when you use it, not for when you don't.
Peace of mind.
The part of these services that I enjoy the most is the peace of mind. I know that at all times I have a way home. I know that living in Vancouver, there is most likely an available car within walking distance. No longer do I feel stranded left hoping a cab drives by or actually comes when I call (hint: we need Uber). Car sharing mobile apps connect us with our cities like never before. Mobility in your city should not cause stress, so download an app that gives you 24/7 access to car keys in your pocket.
Keys In My Pocket: Why I Use Car Sharing Mobile Apps