Info Grove CMS platform for mobile applications development and content management | 7 minutes read
Living in the digital technology era we need everything fast, at reasonable costs and with high quality. In other words, to quote Freddy Mercury, "We want it all, we want it now!".
For example, take a look at how mobile phones have changed our behavior and influenced our lives. The more smartphones infiltrate our lives, the more and more time we spend using them with mobile applications. On average we use up to 9 mobile applications per day receiving, sharing and analyzing information that helps us to make fast and correct decisions to increase our productivity and efficiency. Mobile applications are also becoming some kind of bridge connecting us with others: our friends and colleagues, our organizations, and communities.  So, there is no surprise that companies and organizations are deploying mobile applications to stay connected with their audiences and engage with them.
14 Oranges notice this trend several years ago and created the ultimate solution for the development of mobile apps – Info Grove.
What is Info Grove?

With 10 years of experience in building mobile apps for customers such as Pacific Blue Cross, Cincinnati Bell, NEC, and the City of Pittsburgh to name a few, 14 Oranges discovered many patterns for the most used and required features of mobile applications. As such, 14 Oranges standardized them and implemented them as simple modules within the Info Grove platform.
Info Grove is a software platform for mobile application development and content management.
It is built using native technologies and allows developing mobile applications fast, with high-quality, great functionality, and at reasonable production costs. This platform offers an extremely good user experience and is able to run on iOS or Android. It consists of native mobile apps powered by a web-based Content Management System enabling our customers to control the content and features in the apps in real time.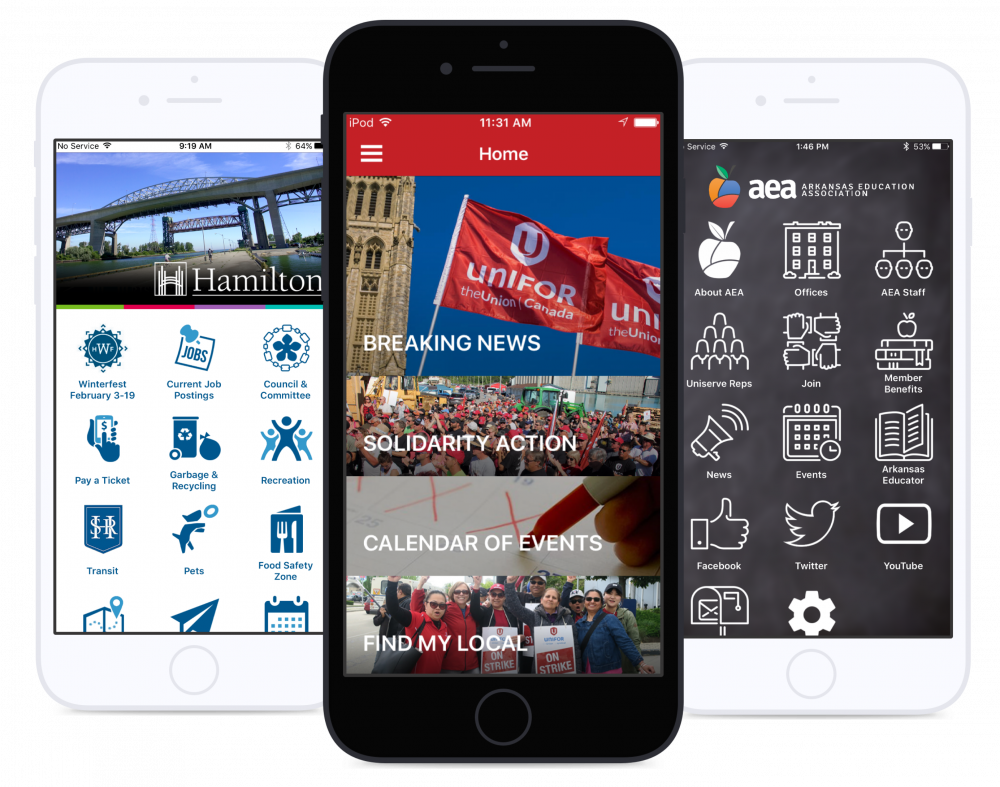 So, in general, Info Grove has over 30 modules and features enabling to:
Schedule events
Collect feedback
Organize promotion or fundraising campaigns
Organize voting and survey campaigns
Organize education options
Overlay maps with geo-fence support
Collect payments
Organize notifications and news delivery with pop-up options
Organize contacts
Analyze the app efficiency and more.
Additionally, Info Grove can be easily integrated with websites, social media accounts, other 3rd party systems like WordPress, Drupal, Kentico, Stripe, Bambora, Member365, and others.
The main advantages of the Info Grove platform are:
Customization

All modules are adjustable to our client's requirements and brand standards.

High-quality user experience

The Info Grove uses native technologies which guarantee excellent performance and app functionality despite the type of OS it works on.

Fast deployment

The mobile app based on Info Grove platform can be launched in 6 weeks.
Cost efficiency

Mobile application with Info Grove costs less than other types of custom mobile applications.
Easily managed back-end system

Our friendly Info Grove CMS allows managing the mobile application content very easily without any specific technical skills.
In such a way, mobile applications with Info Grove platform allows our clients to receive a high quality customized mobile app in a short period of time, with reasonable costs, which become an effective tool in improving communication and engagement within their community.
Mobile applications based on Info Grove platform are the best to consider for such organizations as associations, unions, government authorities, cities, school districts, and other public authorities.
14 Oranges offers mobile applications with Info Grove platform in 3 packages: Bronze, Silver, and Gold allowing you to adjust your production and services depending on your mobile app requirements and complexity.

"Info Grove is a very effective solution to develop mobile apps for organizations in the healthcare, government, and other public sectors. It allows improving engagement within the community by providing them with a mobile-first approach. Simultaneously, it allows reducing operation costs on paper workflow, for instance, by organizing surveys or voting directly in the app. So we welcome everyone to try the demo to see how it works!", – comment Owner and CEO of 14 Oranges, Sylvain Marcotte.