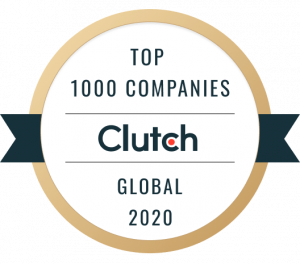 At 14 Oranges, we know it's been a taxing year for most. That's why we're dedicated to helping our clients make 2021 their strongest year yet! We're a leading provider of turnkey web and mobile application services. We leverage the most cutting-edge technology available to help increase overall productivity and ROI.
In recognition of our success and dedication, we've been featured on the Clutch 1000, an exclusive list of the top 1% of vendors, based on research by Clutch! Clutch is a B2B market research firm that uses a one-of-a-kind methodology to provide objective insights.
"We are very proud to have been selected by Clutch as one of the top mobile app development companies in the world. This award represents many years of continuous efforts by our employees and we couldn't be happier to have it recognized."
Sylvain Marcotte CEO & President
We'd like to thank our wonderful clients for helping us earn this award! When asked, they provided the Clutch team with honest feedback on how we've performed. Take a look at some of their responses below:
"Their project management was absolutely fantastic. 14 Oranges is incredibly responsive; no matter the time of the day I reach out to someone, I'd get a response. The timeliness and understanding of urgency were excellent. It's not something I ever expected of them, they just naturally did it."
Lovey Sidhu, Director of Workplace Development, SkillPlan
"They were a lifesaver and walked me through the process in a language I could understand. The team also provided suggestions that aligned with my vision and helped me put everything together."
Tara Tait, Founder & Owner, She Knows Health
"We were able to achieve our vision and particularly our goal of making the app link to our Rotary website. We were able to roll out the project in two phases, first the district app, then to the individual clubs as sub-entities.

We found all members of the 14Oranges team easy to work with, readily accessible, and all were interested in our success. We are satisfied with the three-year contract terms that has allowed us adequate time to determine the impact of the app on our district goals."
Andre Layral, Past District Governor, Rotary Club District 5010
We're proud to receive this honour and look forward to helping even more clients maximize their potential! Drop us a line if you're interested in learning more about our award-winning approach!
14 Oranges Named on Clutch 1000 list of Top Global Vendors for 2020!