The College of the BC Building Trades (CBCBT) is an association of training providers affiliated with the construction unions that belong to the BC Building Trades. The College's more than a dozen trade-specific schools and connected campuses stand alone in offering wrap-around supports and the best quality training available. The college is BC's most comprehensive college specializing in the Building Trades.
Partnered with SkillPlan, CBCBT approached 14 Oranges looking to build their website for the college. The website had to include various information about the different schools and trades supported by the college as well as integrate content from a third party website into a seamless experience. The site also had to match the provided style guidelines and the work had to be completed over the space of just over a month in order to meet the scheduled launch date.
14 Oranges' team of web developers reviewed the requirements and researched the best approaches to integrate the third party content, settling on a set of AJAX calls resulting in a completely seamless experience for the end user. The 14 Oranges team chose WordPress as the CMS and selected various off-the-shelf themes that could meet the requirements and reviewed them with CBCBT. Once a theme was selected, development was underway in a simple page-by-page approach with the CBCBT team providing copyright content via a shared Google Doc.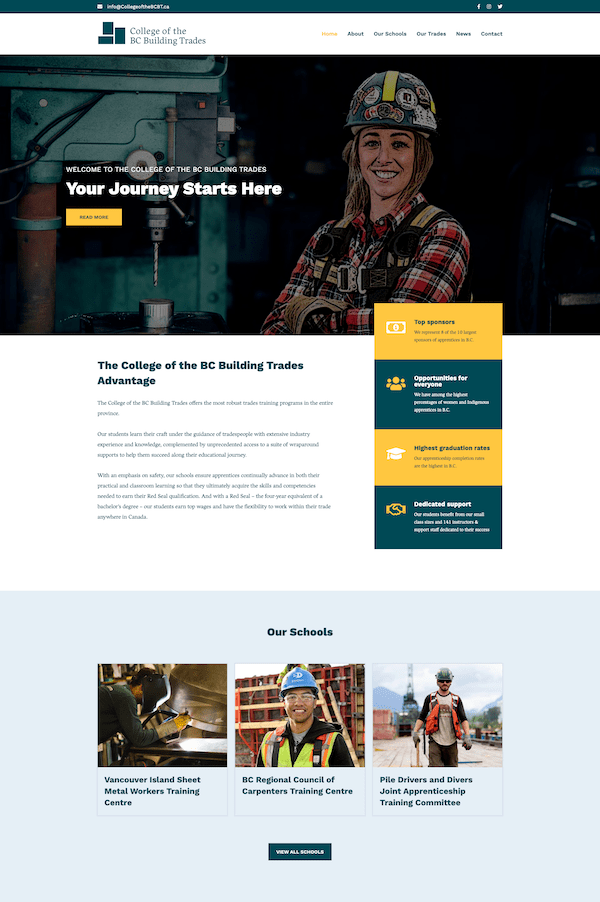 The resulting website met all the requirements and was launched in time for the College's formal launch event attended by about 100 people from education, labour, industry and government (COVID protocols in place, of course). Visit www.collegeofthebcbt.ca/ to explore this impressive finished product.

Are you looking to build or refresh your organization's website? Contact us and we would be happy to review your requirements to see how we can help you reach your goals.
College of the BC Building Trades Launches Website & Online Learning Portal