Several years ago the B.C. government decided it was time to create a website to allow people to book campsites online. While the idea was great, in many ways it failed to live up to its promise, leading to disgruntled campers and lots of public complaints.
One of the biggest issues when it was first launched was its poor layout and design. Unlike other reservation systems for hotels, the process was confusing and there were a lot of bugs, no pun intended. In some cases the entire system would crash because too many people were trying to book campsites at the same time.
Prior to accepting reservations for camping this summer, the BC government relaunched its BC Parks Reservation system, as part of a broader redesign of BC Parks' digital services to improve the park experience from computer to campground.
Refreshed Website
At first glance, users who are familiar with the website will notice that it has a refreshed look and more thought has been put into its overall design. This refresh is great news because there is a lot of important information that people need to be able to find.
Beyond the changes to its design and aesthetics, the new website now allows people to be able to reserve a campsite up to two months before their desired arrival date at most campgrounds. This rolling two-month window is designed to stop tourist operators from booking entire blocks of campsites months in advance and reselling them in packages.
The new reservation service also includes more flexible search options such as a map to search campgrounds by region, park listing or site availability. This visual option makes it a lot easier to figure out where an available campground is actually located, rather than having to open up a second window to Google it.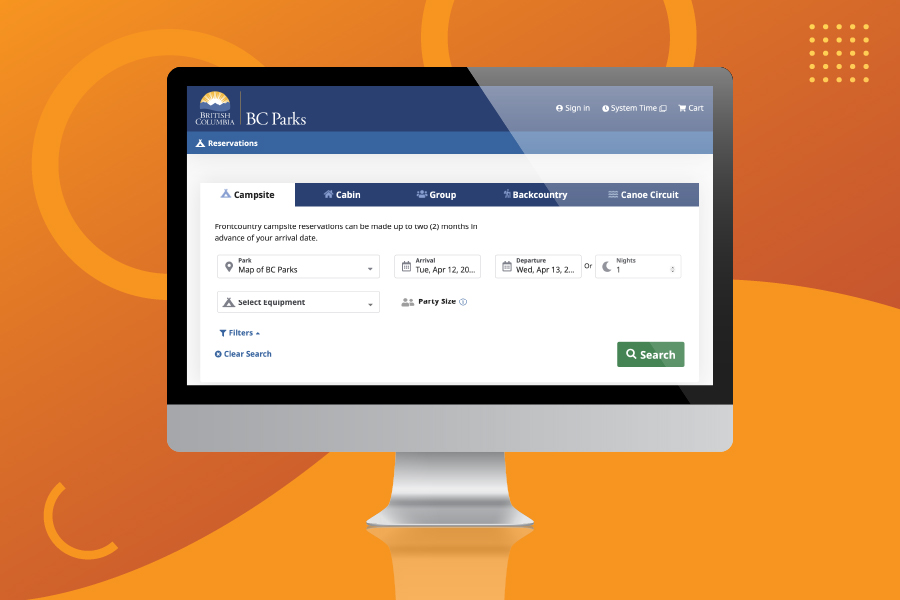 More Local Information
In addition to this change, the new website also includes information about nearby facilities and large photos of campsites so people know what to expect when they arrive.
BC Parks has also added an interactive calendar that shows when booked sites will become available and users now have the option to save booking preferences within their account, making it easier to vet campsites based on what you want or need.
While these are certainly welcomed improvements, our own experience using the website to book campsites wasn't as ideal. In many cases, our staff still ran into a lot of challenges booking certain sites on certain dates. For example, it was difficult to book a campsite at Golden Ears Provincial Park over a long weekend because the system did not recognize their request even though the campground was available.
It also appears that users can not change the date of their reservation from their cart. As a result, users have to go back to the calendar and manually de-select or select the days they want. This extra step can be frustrating especially if there is a lot of demand for a certain site.
While the new changes to BC Parks reservation system are definitely an upgrade, it appears that there is still far to go. Hopefully, this upcoming camping season will be an opportunity for BC Parks to get more feedback, so they can continue to improve this important website.
Sylvain Marcotte is CEO and President of 14 Oranges.
Website Review:  BC Parks Reservation System