Earlier this year WordPress released a new update to its content management system (CMS) and after a few months of it being live we thought it would be a good time to review the changes.
The free and open-source platform is the most widely used website platform in the world and is used by more than 40 percent of the top 10 million websites in the world.
One of the reasons it is so popular is because it is free and written with free tools (PHP and paired with MySQL). It also features a wide array of plugins and a template system making it easy to use and robust enough for a range of purposes.
Despite its success, that doesn't mean WordPress has stopped trying to make its platform better. In fact, in January it released WordPress 5.9 in an attempt to make the entire platform easier to use.
Evolution or Revolution?
While the changes are certainly an improvement, WordPress 5.9 is more of an evolution rather than a revolution. The biggest change is that it has updated its WYSIWYG editor, which is an editing software that allows content to be edited in a form that resembles its final appearance on a user's web page. In other words, it allows users to manipulate the layout of their content without having to be a coder.
The updated version now uses Full Site Editing (FSE), which makes it even easier for users to customize and modify their WordPress websites without having to use any code. From a user's perspective, they will notice that they have a lot more options to edit and manipulate their content.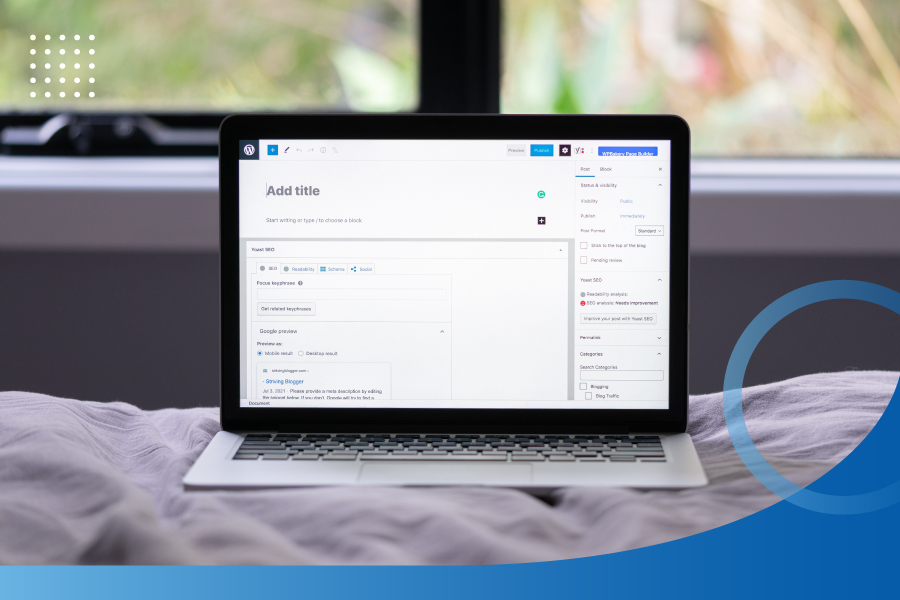 Biggest Change
The biggest change; however, is that users are now able to edit the header and the footer while they work on the body of their content. Previously, users would have to navigate to another section to edit the header and footer. This process created unnecessary steps and made it difficult for users to see their web page in its totality before publishing.
By integrating the header, footer, and body of the content in one space, the platform is not only easier to use but is similar to the platforms used by Wix and Squarespace, WordPress' two main rivals.
Additional Updates
WordPress has also recently introduced "list view" which allows users to view all of their blocks in a consolidated list, which makes it easy to drag and drop as needed. For those who aren't aware of what a "block" is, it is a content element that you add to the edit screen to create content layouts. Each item you add to your post or page is a block. For example, you can add blocks for each paragraph, image, video, gallery, audio file, and more.
In its update WordPress also included several new themes which support blocks from the start, making it easier to build a website from the get-go. In addition to these changes, the new update also includes a new "patterns" function, so users can add lines or dots to separate their content or add more style to their website.
Survey Says….
Overall, the new updates included in WordPress 5.9 are certainly an improvement from its older platform and will likely be warmly welcomed by its users; however the update is by no means revolutionary. Anyone who has used WordPress in the past will still find it looks and feels the same, albeit with a few tweaks that make it even easier to use.
Sylvain Marcotte is CEO and President of 14 Oranges.
The Latest Changes to WordPress Aim to Make Life Easier