Refreshing an Old Website Without Losing SEO
Tidy Trailers is a self and full-serve junk removal company operating in Vancouver and Lower Mainland, British Columbia
The company has built a solid reputation for several reasons including:
Being the only junk removal company in the area to be able to support customers with overhead clearance restrictions.
Saving customers money by offering rates based on the weight of loads versus volume like most other junk removal companies.
Continually exploring new recycling options for residential and commercial trash removal and doing what they can to donate items whenever possible.
While their customers were absolutely loving the quality service Tidy Trailers provided, they were less thrilled with the company's website. Built in the early 2000s, the company knew the site was ready for an update and approached 14 Oranges to help them.
The Website Ask
TidyTrailers had a straightforward request when they contacted us to help them. They wanted to improve their existing site without losing their hard-earned SEO ranking.
The company had built up some great traction with SEO–they were showing up on the first page of Google's local search results–and didn't want to lose out on that when making website updates.
While their site was working for them from an SEO perspective, it wasn't mobile-friendly. With mobile search accounting for 50% of web traffic worldwide, TidyTrailers knew they needed to update their site so they weren't losing out on potential business.
Your website can work as an "always on" sales person, 24 hours a day, 7 days a week for your business, but only if customers can easily find and navigate through your website. TidyTrailers was being found, but then visitors didn't have the best possible experience on their website, especially on mobile.
The 14 Oranges Approach to Websites
We actually took an interesting approach to help come up with a plan for the updates we did to the Tidy Trailers website. While the site itself is fully custom-coded, we decided to still use a WordPress theme to help the client visualize what the site could look like.
After deciding upon an approach, we implemented things partially within WordPress until we got to something that the TidyTrailers team felt good about. Then we created the custom code to rebuild their existing site accordingly.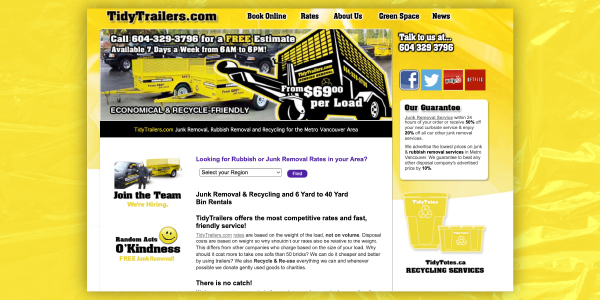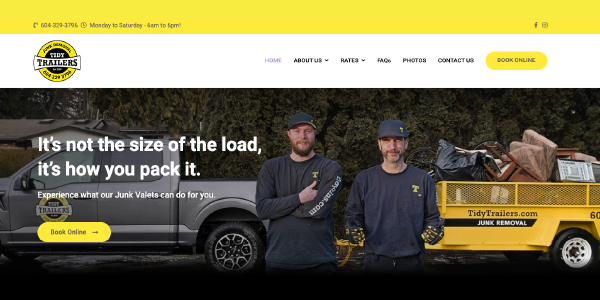 The Result
The new site looks fresh and modern and clearly shows how Tidy Trailers is different from its competitors. It's easy to navigate and has an easy online booking option. Most importantly, the look and feel and user experience are streamlined on both desktop and mobile versions of the site.
For a company offering a local service, being able to save their SEO rankings is definitely a win because Tidy Trailers still shows up right away when potential customers in their area are looking for junk removal.
Is Your Website Ready for a Refresh or Redesign?
If your company's website hasn't been updated in a while, it may be worth looking into what's possible in terms of refreshing or redesigning things. Perhaps the look and feel of your site could be more modern or perhaps you've just been putting up with some issues that could be fixed. Maybe, like TidyTrailers, your site isn't optimized for mobile–whatever the issues, it's definitely worth reaching out to 14 Oranges to see what we can do to help.
As your only 24/7 salesperson, it's worth investing in your website to make sure it's working as hard as possible for you.
Sylvain Marcotte is CEO and President of 14 Oranges
Customer Spotlight: Tidy Trailers Website Rebuild