"She's one of the key cogs in the 14 Oranges' wheel. She's vital."
This is how I responded when I was recently asked about the role Yvonne Leonard, 14 Oranges Director of Customer Engineering, plays at 14 Oranges. Yvonne has been with the company for nine and a half years and has played an instrumental part in the growth of the company during that time.
Yvonne's Journey To 14 Oranges
Yvonne completed a management science degree in the UK before moving to Germany to work for a telecoms testing company. In 1999, Yvonne and her husband made the decision to relocate again. Choosing to move to the west coast of Canada was an easy decision for them both.
"We both grew up in England. My husband grew up in the one area of England that actually gets frozen fields in the winter. So he learned to skate and ended up becoming a huge hockey fan and developing a love for Canada."
Yvonne grew up by the ocean and had made a lasting connection with mountain life and skiing during a year spent in Innsbruck as a student.
"So it was always Vancouver," Yvonne says. And the timing was right. It was 1999 during the dot com boom, when software jobs were abundant. Yvonne started out as a software engineer, but that was never her true love. She finally found her sweet spot when she got back into testing and QA and she worked doing that for several years at a startup.
But after financing at the startup failed, Yvonne knew it was time for a change. She had enjoyed working part-time for several years because it allowed her to be close to her children when they were young. She came upon a job listing for a contract position at 14 Oranges that sounded like it was a good fit, but it was full-time.
"It was a little bit of a leap into the unknown," Yvonna explained. "Am I really ready for full-time work?" she wondered. But the position was a contract and allowed her to work from home, so she decided to give it a shot. Yvonne joined 14 Oranges as a QA Lead on a contract, ended up loving it and was eventually brought on as an employee.
Yvonne's Growth at 14 Oranges
In her first role at the company, Yvonne was responsible for testing all the apps that 14 Oranges was developing. She had the important role of managing test cases–running them against the apps and ensuring any bugs were caught before they went live.
Even in her early days with the company, Yvonne was going beyond just looking for problems to fix. She was also continuously looking for areas for improvement and ways to make 14 Oranges' apps better and more user-friendly.
Yvonne's interest in user experience led her to begin working on user interface design, which gradually landed her in product ownership. She began looking after the direction an app's development would take, what features each product should have and how they should work.
Eventually, I asked Yvonne if she would be interested in managing customer projects.
A Step Outside Her Comfort Zone
Initially, Yvonne wasn't sure how she felt taking on the new role. "It was slightly intimidating because I hadn't really worked with customers in a long time."
But Yvonne stepped outside her comfort zone and took on the role. Now, she looks after 14 Oranges' client projects from the first kickoff meeting all the way through to deploying their app in the App Store and providing training to the customers on how to update the mobile apps themselves.
Yvonne is passionate about the work she does and about personalizing the service she provides to suit every 14 Oranges client's needs. She operates with an "email's always open" policy, encouraging clients to contact her with any questions they have or any help they need–whether it's a small change or update or a refresher training each year.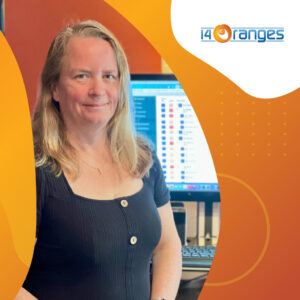 Working at a Small Company
Being able to offer this personalized service is important to Yvonne. She has always preferred working for a smaller company over a large, corporate firm because she likes to see the impact of her work and the benefits it brings to her clients.
These same benefits extend to 14 Oranges clients, Yvonne says. "I think the thing that makes us different– and I think our customers realize this when they work with us–is that you really do get that personal attention."
In a smaller company, Yvonne explains, everyone is able to truly care about each project they work on. They have the ability to go out of their way to make sure each client is getting what they need.
"Customers get great service by working with a small company–much more so than if they're working with a larger group that isn't going to give them that same personalized attention," Yvonne says.
Yvonne's Role in 14 Oranges' Future
As Yvonne continues to take on the project management of more and more client projects it has really freed me up to focus more of my time and energy on growing the company. Being able to spend that time on activities critical to our growth has been immensely helpful. I know Yvonne will continue to take on more and more responsibility and I'm confident that her contribution to the future of 14 Oranges will be as instrumental as it has been in its history.
Sylvain Marcotte is CEO and President of 14 Oranges.
Growing 14 Oranges by Promoting Our Employees – Yvonne Leonard