Educating and Supporting Women Through Menopause
For many years, the extensive physical and emotional transition that women experience during midlife has been relegated to the obscure edges of public attention and primarily discussed only among close friends.
When menopause is discussed in the public domain, the vast list of symptoms and experiences are boiled down into a couple of meme-worthy ideas about hot flashes. But, in fact, for many women experiencing menopause, it is usually the furthest thing from funny.
When Deborah Kerr worked in pharmacies, women whom she only knew in passing would approach her with fear in their eyes and bravely ask for help with their menopause symptoms. What Deborah came to realize however, was that most of those women didn't even realize the issues they had been struggling to live with were menopause symptoms. Outside of hot flashes, many women did not know what to expect with the onset of peri-menopause and menopause.
Luckily, things are finally changing. More and more women are speaking out about the impacts of midlife hormonal changes, reporting experiences of forgetfulness, anxiety, and even suicidal thoughts.
To support women through the transition, Deborah launched Vergo Women's Health Network, which includes a website of robust information and a mobile app designed to help women track their symptoms, journal their day, and share menopause wisdom.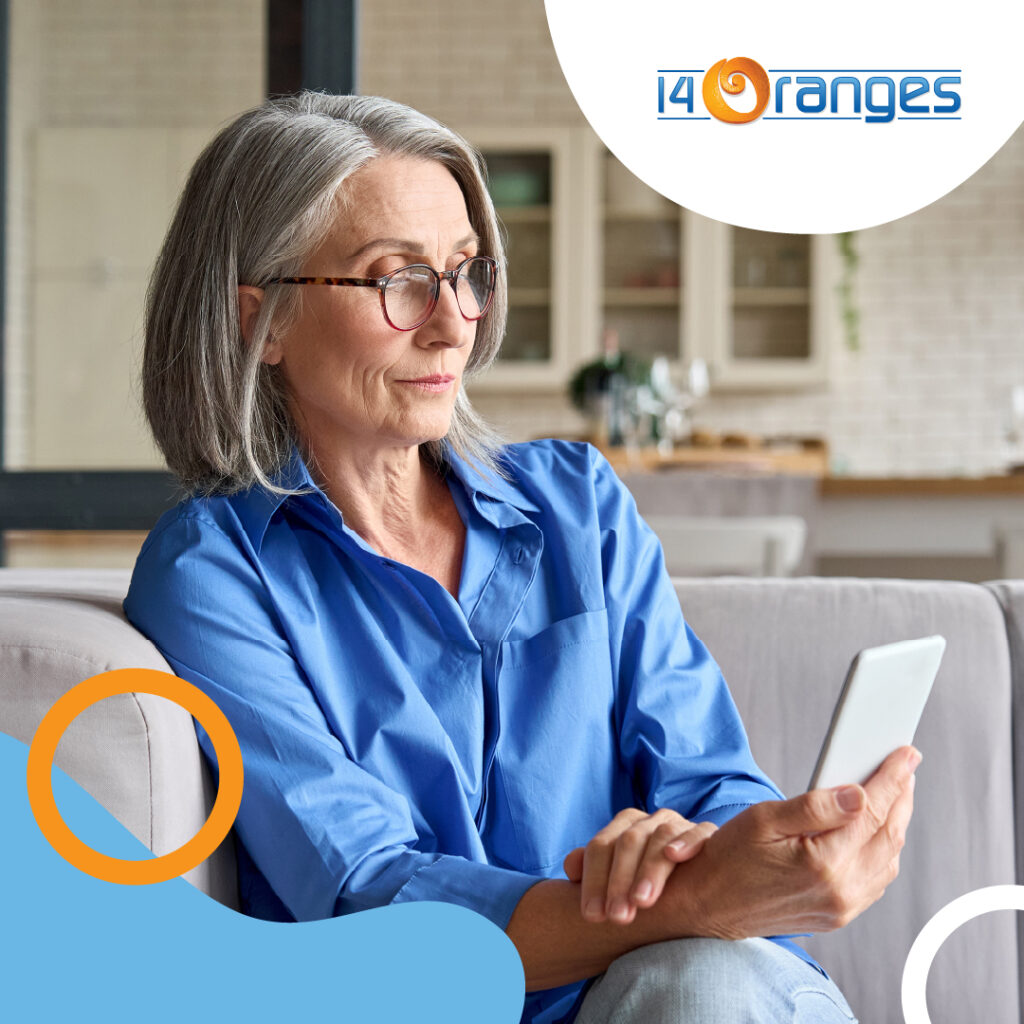 Recently, Deborah approached 14 Oranges to help relaunch the Vergo website and app. The website is a repository of content, including informative blog posts and videos, all focused on different aspects of menopause. The 14 Oranges team is working on the SEO and organizing the content by setting up relevant categories that allow visitors to easily find pertinent information
The Vergo mobile app, called The Menopause Educator, is part informative teaching tool and part digital journal that helps women track their menopause symptoms.
"Very informative and helpful," says one five-star review on the App Store. "This app has educated me about a huge variety of symptoms that I had no idea were related to perimenopause and menopause. The tracker and reporting are excellent tools," the review continues.
Because some women experience intense emotional fluctuations and memory issues as part of their menopause symptoms, it can be difficult to have informed conversations with a healthcare provider about symptom relief. A record of the frequency and intensity of each of your symptoms is incredibly important for determining the best treatment options. Women using the Vergo app can meet with their healthcare providers fully educated on what is happening to their own bodies and with a precise record of their personal experiences.
Vergo Women's Health Network is one of several healthcare clients 14 Oranges works with. We love the challenges that come with finding unique ways for our healthcare clients to engage with their patients and customers and of course, we love being a part of the good these clients bring to the world.
If you're a healthcare organization looking to build or rebuild your website or better serve your patients or customers with a mobile app, book a meeting with our team today. We would love to hear more about who you want to help.
Sylvain Marcotte is CEO and President of 14 Oranges.
Customer Spotlight: Vergo Women's Health Network