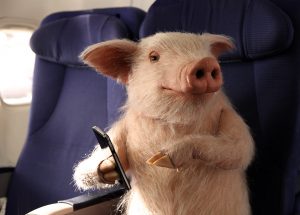 When it comes to bacon and eggs they say the chicken is involved, but the pig is committed.  When it comes to releasing mobile apps, the development of the app is involvement, but the marketing of the app is where you truly commit to your audience.
Put plainly, if you think your target audience will find your mobile app with no prompting on your part, you will be disappointed with the download results. Our experience has shown that not marketing your app will create a very low, straight line download rate.  Basically you are relying on your audience to discover the app on their own. While both Apple and Google are good at presenting your app for download, unless you have some timely, culturally significant content you will not get their attention to feature your mobile app in their app stores.  However, there are a number of both free and paid ways to effectively market your mobile app to your target audience, and better yet, measure the success of your campaign.
1)
You are your best advocate: App download pop-ups on your website.
By now you have surely noticed that more and more of your target audience has been connecting with your website from their mobile devices.  This may even have been your statistical justification for having a mobile app built.  With the addition of a very simple, pop-up on your website you can re-direct incoming visitors to download your newly minted mobile app.   
Links and advertisement on the front page of your website are also effective, but nothing grabs the attention of mobile users like an option to opt out of the mobile website and download an app.
2)
Social media marketing: The Freemium approach
That intern in the corner churning out click-bait?  Get them in the routine of posting that you have a mobile app to download!  Your social media following, if it is engaged in what you are posting, will take to this message quickly.  But remember, you can't get away with posting once in the social media world.  Your posts are now getting buried in your target audience's social media feeds, so it's critical to re-post the app's availability on a routine basis, and even think about paying to boost your posts.  Now, if you followed tip #1, all your social media posts that connect back to your website will also lead to the app being advertised immediately to your mobile users.   Think of this as the tag team of free digital marketing app techniques.
3)
Performance advertising: Targeted and measurable
Facebook and Google, as was pointed out by Gabe Laydon, the CEO of Machine Zone (Must watch interview) are performance marketing firms. They get paid to position ads to your target audience. Make use of these ads and position yourself against the right keywords and demographics.  TV and radio have proven to be effective ways of marketing, but as Gabe shares, try exhausting digital advertising before spending on these traditional media. Even if the numbers seem low at first, digital at least gives you an accurate measure of what your audience is clicking on versus the Hail Mary marketing approach still embraced by traditional broadcast media.
4)
Display advertising: Be seen where it counts
When your content is targeted to an audience sitting in a doctor's office or standing in a bus shelter, why not just use a poster to ask them download your app?  While digital advertising is tightly targeted, it is constrained to the online world, and display advertising offers additional value based on the location context of the display which helps to trigger the desire to download an app. By using a vanity URL or even a QR code, you can easily extract a further digital measurement on the success of the display ad campaign.
In all the cases above, you will be able to benefit from a digital measure of your campaign's success to get your mobile app downloaded.  So go on, be a pig, and commit to putting the best mobile app download marketing practices into your release plan!
Oink!
4 Tips For Effectively Marketing Your New Mobile App