LITTLE ROCK, ARK.
(PRWEB) NOVEMBER 14, 2017
The Arkansas Education Association (AEA), in partnership with 14 Oranges, has launched their new website and mobile app. The website and powerful smartphone app uses 14 Oranges' Info Grove self-managed software, allowing association staff to reach their member base in a convenient fashion.
Mobile App & Mobile-Responsive Website
The mobile-responsive website and mobile app connects professionals, educators, and students to industry related news and events. The decision to build a mobile-responsive website along with the app provides members with a complete mobile-first communication platform. The app is available for download on the App Store and Google Play Store to the more than 10,000 members of the AEA and the general public.
"Our members are increasingly using smartphones to access the internet and we wanted to ensure they can learn more about the Arkansas Education Association in a clean and easy to use app and website," says AEA President Cathy Koehler. "We are a membership driven organization, and it is incredibly important for us to keep members informed and make sure they know how to contact us."
The app includes information about member benefits, including discounts available to AEA members, detailed contact information for AEA staff and field representatives, as well as a way for educators to join the association online.
"We hope these features will help us show the incredible value of AEA membership," Koehler says. "Users will also be able to read the Arkansas Educator, a recently redesigned member magazine highlighting the incredible things our members do for their students every day."
Mobile App for Member Engagement
Members of the AEA can now view industry related information on the platform of their choice; whether on a desktop computer or a smartphone, members can access virtually all content at their convenience. The dual-handed approach gives members the ability to choose their preferred method of communication, either with emails that link to the website or push notifications that link to the app.
The app, which connects members to information about advocacy issues, events, and news, provides certain content with or without an internet connection. Offline support means that members can get access to some of the information without worrying about a wifi connection or data usage.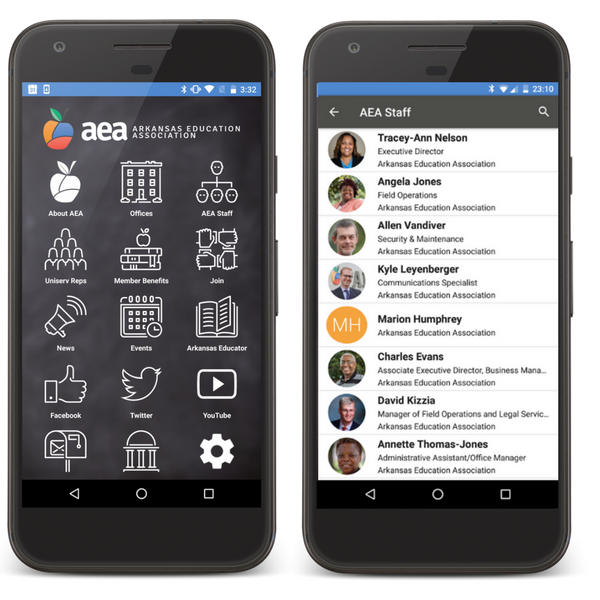 Software-as-a-service model (SaaS)
There are several features that set the AEA app apart from other apps, explains Sylvain Marcotte, CEO and founder of 14 Oranges. "The AEA app follows the Software-as-a-Service (SaaS) model, meaning the app is more than a one time product," Marcotte says. "14 Oranges maintains the iPhone and Android apps on behalf of the AEA as Apple and Google release the latest operating systems and devices."
The service stands out with two main features. The first is a targeted push notification service. Targeted notifications allow app administrators to push information directly to the smartphones of their members with the goal of having members perform real-world actions to the benefit of their organization, such as signing up for memberships or registering for an event. The push notifications can be highly targeted and sent based on a member's geographic location or personal interests.
"AEA has served as the voice of public education for nearly 150 years, and in today's political climate, it is incredibly important for our members to make their voices heard," President Koehler says. "These targeted notifications will offer a new way to engage educators as our legislature develops and discusses laws affecting public education."
The second is a self-service web interface for updating content by the customer. With the backend content management system (CMS), the AEA does not have to come back to 14 Oranges to update content in the app, saving them money and time. 14 Oranges' user-friendly CMS, which follows similar guidelines as the WordPress web platform, was designed for non-technical staff to make changes in the app with ease.
"In addition to the cost savings, we won't have to wait for an outside company to make time for adjustments," President Koehler says. "This will allow us to share important information with members right away, and make sure the site stays up to date."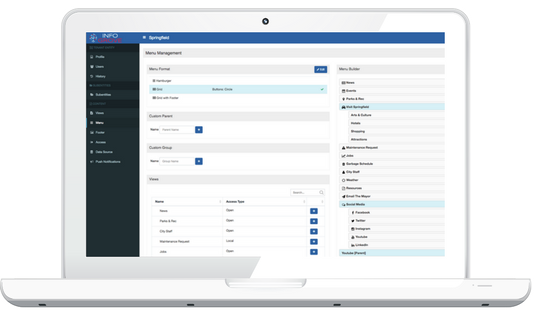 Cross-Platform UI/UX Design
AEA members can use the app on all major devices, including iPhones, Androids, iPads, and other tablets. Also, the app supports push notification delivery to all major smartwatches.
"Together AEA members work to make public education excellent in Arkansas," President Koehler says. "We are excited to offer these new tools to connect with our members, and are excited to see how they use them to increase student success."
—–
The Arkansas Education Association is a professional organization for teachers, education support professionals, students, and advocates. The fundamental objective is to work for improved salaries, benefits, and working conditions for all education professionals, as well as for the betterment of the Arkansas State education system.
For more information contact:
Kyle Leyenberger, Communications Specialist, AEA
(501) 375-4611 (x117) kleyenberger@aeanea.org
Info Grove Mobile Apps
Info Grove acts as an outbound communication platform. Primarily used by member-based organizations, the self-managed app software allows administrators and other non-technical staff to change and add content without going back to 14 Oranges. Info Grove follows similar guidelines to WordPress and 14 Oranges ensures the platform is as user-friendly as possible. Click here to learn more about Info Grove mobile apps!

Arkansas Education Association Provides Mobile-First Communication