The City of Lethbridge has released its new mobile app for citizens and visitors to explore parks and recreation within the city. The Lethbridge Parks app is where users will find information on parks, playgrounds, pathways and other outdoor activities in the city.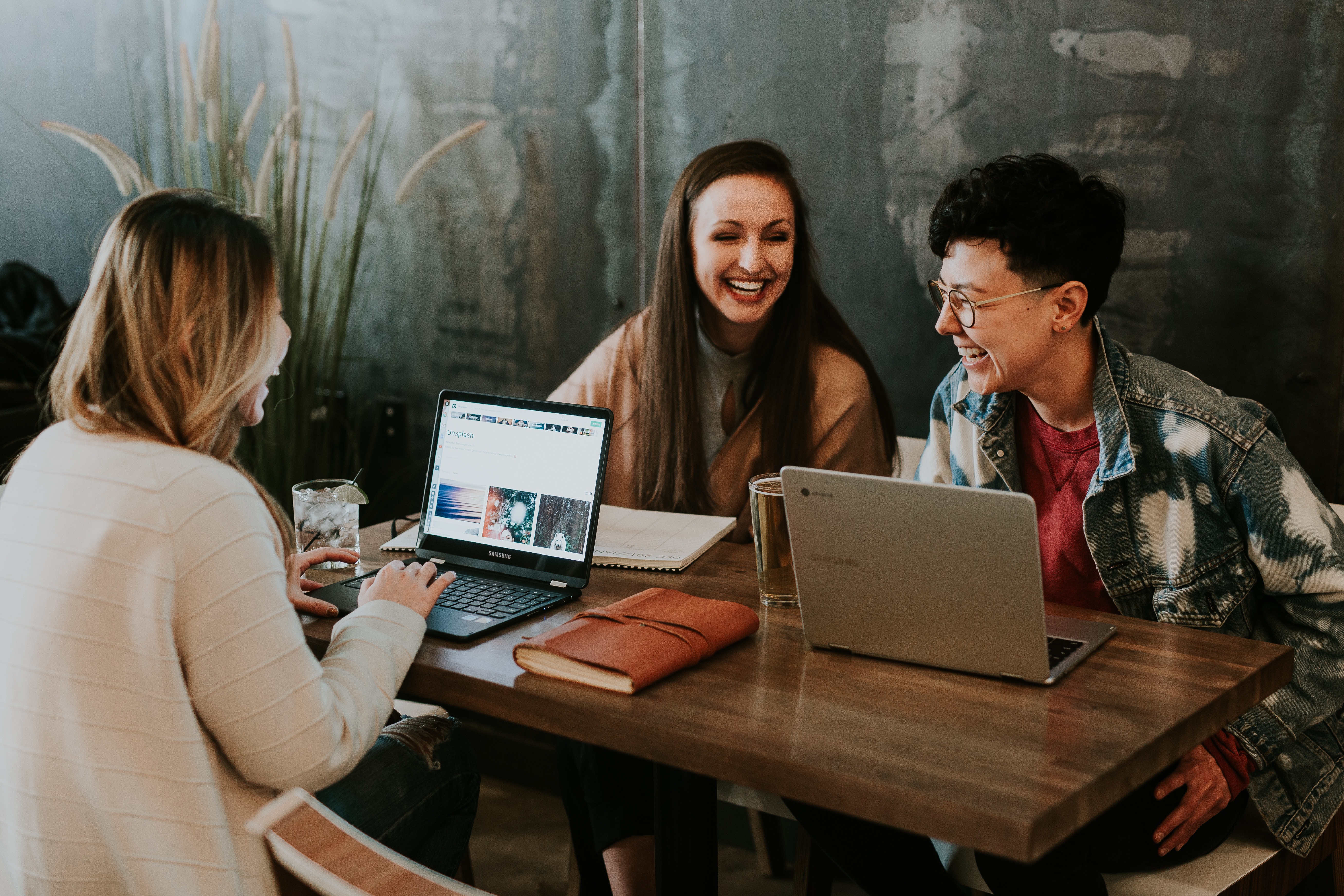 Available for free on both iOS and Android, the new mobile app demonstrates a mobile-first approach to active engagement within the City of Lethbridge.
The mobile app allows users to access a wide variety of city information in a convenient mobile format. The majority of content is available offline, meaning users do not need a data or a wifi connection in order to access information.
Lethbridge Parks strongly encourages active engagement with city facilities and public spaces, and the new app will make it easier for citizens who aren't aware of the opportunities to get engaged.
According to the City website, Lethbridge Parks offer many benefits to residents – they connect citizens to the city's past, help to keep citizens healthy, make them happy and are good for the environment.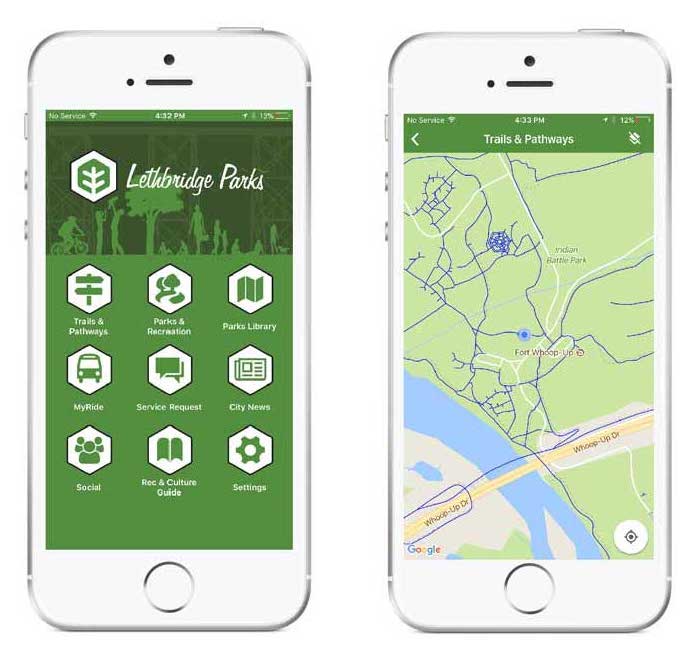 Here are some of the top features in the mobile app:
Trails & Pathways
Synced with Google Maps, users can avoid the busy streets and opt to travel via the cities large network of trails and pathways.
Parks & Recreation
The app provides a list of all parks, green spaces, playgrounds, sports fields, recreation sites, and sites of interest. Users can view the list alphabetically, sort by distance, or search by keyword. Also, users can switch from a list to a map to provide a spatial perspective.
Once a user finds a place of interest, they can click on it and learn more about the space. For example, citizens can learn whether or not a playground has a public washroom, if it's wheelchair accessible, and learn about the playground material and surface.
If citizens want to visit the space, they can quickly get directions via Google Maps. Or, they can click on the myRIDE feature, which provides a directory of modes of public transportation in the City of Lethbridge.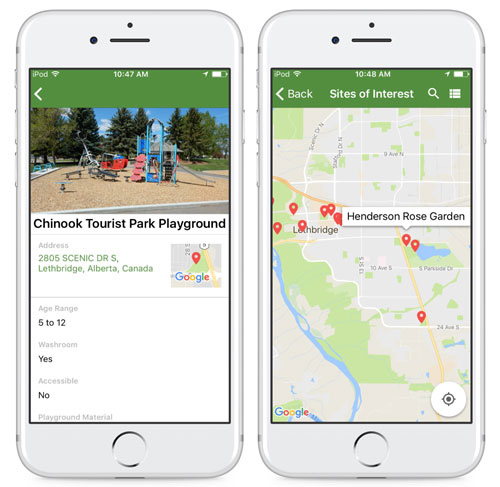 Service Request
To help facilitate two-way communication, the mobile app allows citizens to report a service request in and around the city. Citizens can report problems such as graffiti, potholes, or broken equipment.
City News
The app connects users to city news, via an automatically synced RSS feed.
Parks and Rec Guide
The City of Lethbridge recreation and culture guide is a monthly publication that promotes activities, programs, and services for the citizens of Lethbridge. Through the app, citizens have access to the PDF documents to review.
Social Media
The app allows citizens to access all City of Lethbridge social media accounts, including Facebook, Twitter, Instagram, and Youtube.
Future updates
The City of Lethbridge mobile app was built using 14 Oranges' Info Grove platform. Info Grove is a combination of a mobile app and a cloud-hosted content management system.
Info Grove allows City staff with no technical background to make edits within the app and add new content with ease.
Staff can create new buttons and content for temporary events, update resources, and adapt to the opinions of the citizens.
The City of Lethbridge will be able to send push notifications to update citizens regarding emergencies or facility breakdowns.
Lastly, Info Grove is equipped with geo-fence and beacon technology. The City of Lethbridge will be able to leverage this to create spatial-based triggers to notify users when entering a park or recreation facility, if relevant.

City of Lethbridge Parks & Rec App