As I promised after I watched the latest Apple event back in September, I watched the #madebygoogle event last night. Hmm, that was an hour and seven minutes I will never get back. Maybe I've been brainwashed by Apple to expect a certain style of launch events but I felt the whole made by google event felt off. First of all, the venue looked like a warehouse and the sound wasn't super great. They tried to add a homey feel to it by adding shelves and plants but that really didn't do it. Also, the presenters were good but lacked a bit of charisma and I don't know if it was a tough crowd but you could tell there wasn't much connection between the presenters and crowd as most of the time, you could hear crickets. Finally, the way things were presented was very disjointed. They talked about the Pixel 4 for a bit, then jumped on the design of things and then introduced another product briefly. There was no clear, we are talking about X now, here it is, here is a demo, here is when it is available and price. Done. For the entire presentation, I wondered if I was watching the right thing. I now know why when I searched on YouTube, I saw many "the whole events in 10 minutes". I wished I had watched those instead.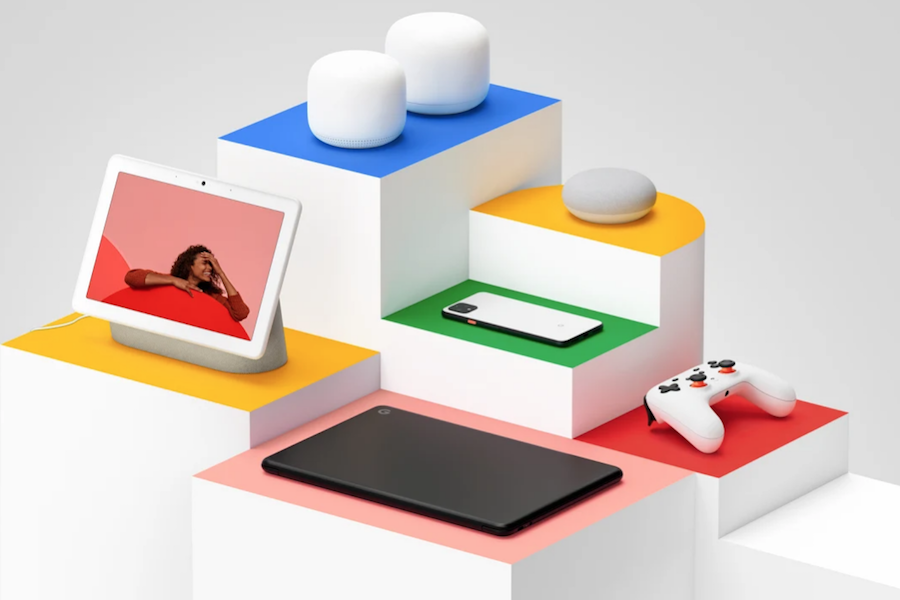 In any case, let's talk about the products and services.
Pixel 4
The big "reveal" of this presentation was the Pixel 4. I put reveal in quotes as there have been so many leaks for the Pixel 4, most people knew what to expect. That being said, I am not the one to look at the leaks. I usually wait for the official announcements. Now just like Apple's event, most of it was "meh" but there were still a few features that pushed the envelope and made me want to have one. The biggest novelties to me were the new motion sense capability and the onboard on device assistant. 
Motion Sense
Motion sense allows expands gestures beyond touching the screen. You can now wave your hand above the phone to skip a song, silence a call and do a variety of other features. All very good if your hands are tied up or dirty. They also used motion sense as a way to enable the camera so that face unlock is faster which is good. I think over time, Motion Sense will unlock new capabilities with the phone like improved accessibility or improved gaming.  
Onboard Assistant
Another big reveal is that the assistant now is onboard or built in the phone. It no longer needs to connect to the cloud in order to process your voice. That means the assistant can work while you are offline but more importantly, it can mean a faster response from the assistant. 
Recorder 
Google added a new app called Recorder which allows you to record meetings (and calls?) and transcribe them on the fly so that your recordings are easier to manage and search later one. That's a major improvement. Be ready for more people recording meetings.
Camera(s)
Of course, the camera (or should we say cameras now?) is much better. Improvements with night sights, portrait mode, live HDR+, white balance, so on. As usual, the proof is in the pudding with these so we will have to give it a try first but they all look very promising. 
Style / Colours
Having owned a Nexus or Pixel phones for the last 6 years, I am a bit disappointed with the new style of the Pixel 4. Beside the standard Just Black colour, the Clearly White and the Oh So Orange (and yes that would be our choice) colours have a black band around the phones which kind of take away from the style of the phone. I wonder if it is because the camera housing is also black and they had no option there. 
Nest Everything
In another confusing name change, Google decided to marry the Nest brand name with its Google Home Mini and Google Wifi product lines. A bit surprising since both the Google Home and Google Wifi product lines were quite popular. In fact, the Google Wifi was apparently the #1 router on the market according to Google themselves, why they would want to change the name is beyond me. Well, I guess that is expected from the company that brought you Orkut, Google Buzz, Google+ for social networks, Google Chat, Google Hangout, Google Allo, Google Duo for calls and chats, Nexus and Pixel for devices. Shall I go on? Beyond the name change, there were some nice improvements to the devices and they are generally better (performance, range, sound) than their predecessors but nothing earth-shattering. 
Pixelbook Go
Another announcement made yesterday is with the Pixelbook. The Pixelbook Go is the new name (again why didn't they just go with Pixelbook 2?). The biggest changes are, the device is now offered with a cheaper Intel M processor lowering the price of the device to $879 (64 GB of storage) compared to $1299 for the base Pixelbook (128 GB of storage). The display specs appear to have been toned down a bit as well but does offer a longer battery life of 12 hours compared to 10 hours. In general, the prices all went down so that's a good thing. You can view a feature by feature comparison here https://store.google.com/magazine/compare_laptops
Interestingly enough, you can still buy the old one at the old price. I don't know why they don't discount the old ones when the new models come out. They did that as well when the Pixel 2 came out. 
Conclusions
Beside the underwhelming and confusing presentation, the new products are good improvements over the previous years and do offer some novel features. I would say a tad better than what Apple pulled off in their product lines. I will likely upgrade my Pixel 2 to a 4 at one point although, I may wait and see if they come up with a 4a early next year. I am not in need of a new laptop at the moment but I am a big fan of the Pixelbook and the only thing that kept me from it was its price. The new prices might help me in the future.
#madebygoogle 2019 Event Review – A Bit More than Meh